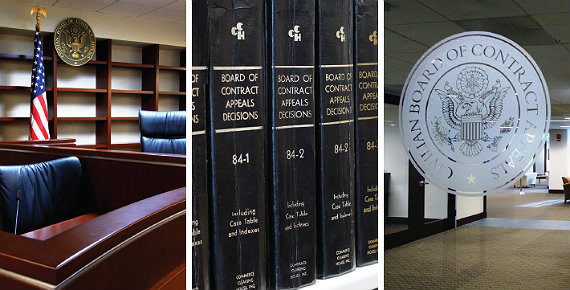 The Civilian Board of Contract Appeals (CBCA) is an independent tribunal housed within the General Services Administration. The CBCA presides over various disputes involving Federal executive branch agencies. Its primary responsibility is to resolve contract disputes between government contractors and agencies under the Contract Disputes Act. The CBCA encourages the use of alternative dispute resolution (ADR) in all appropriate cases. For a full discussion of the CBCA and its jurisdiction and history, please see The Board.
See the latest CBCA News
Message from the Chair and FY17 Annual Report.
New Decisions
| Decision Date | Case Number | Appellant / Claimant / Applicant | Judge | Type |
| --- | --- | --- | --- | --- |
| 05/21/2018 | CBCA 6098-TRAV | Anil I. Evans | Chadwick | Dismissal |
| 05/21/2018 | CBCA 5933-FEMA | Plaquemines Parish Government | Vergilio | Decision |
| 05/18/2018 | CBCA 5976 | Tribute Contracting LLC | Chadwick | Decision |
| 05/16/2018 | CBCA 6088-ISDA | Alamo Navajo School Board, Inc. | Sheridan | Dismissal |
| 05/16/2018 | CBCA 5804 | DC Tours and Transportation | Vergilio | Dismissal |
| 05/16/2018 | CBCA 5540, 5541, 6037 | Mare Solutions, Inc. | O'Rourke | Decision |
| 05/02/2018 | CBCA 6048 | Foxmar, Inc. dba Education and Training Resources | Sheridan | Dismissal |
| 05/14/2018 | CBCA 6071-TRAV | Patrick M. Cotton | Sullivan | Decision |
| 05/14/2018 | CBCA 4523 | Cleveland Thermal, LLC | Zischkau | Dismissal |
| 05/07/2018 | CBCA 5543 | PJP Building Six, LC | Beardsley | Decision |
| 05/07/2018 | CBCA 6057-ISDA | Spirit Lake Tribe | Russell | Dismissal |
| 05/02/2018 | CBCA 6010 | Brooks Range Contract Services, Inc. | Lester | Dismissal |
| 05/01/2018 | CBCA 5456 | Ahtna Environmental, Inc. | Lester | Dismissal |
| 05/01/2018 | CBCA 6025-RELO, 6026-RELO | Frankie A. Daniel | Chadwick | Decision |
| 05/01/2018 | CBCA 5857-ISDA | Pueblo of Laguna Department of Education | Lester | Dismissal |
| 05/01/2018 | CBCA 6043-ISDA | Shonto Governing Board of Education, Inc. | Lester | Decision |
| 04/26/2018 | CBCA 5982-RELO | Jennifer A. Miller | Kullberg | Decision |
| 04/26/2018 | CBCA 5770-ISDA | Little Priest Tribal College | O'Rourke | Dismissal |
| 04/23/2018 | CBCA 5932 | Blue Yonder, Inc. | Zischkau | Dismissal |
| 04/20/2018 | CBCA 5939 | Olympia Development of Michigan | Chadwick | Dismissal |
| 04/20/2018 | CBCA 5430, 5431 | Philips Healthcare | Zischkau | Dismissal |
| 04/19/2018 | CBCA 6009-C(4734) | Belle Isle Investment Company Limited Partnership | Somers | Decision |
| 04/17/2018 | CBCA 6044-TRAV | Ricco D. Chalmers | Drummond | Dismissal |
| 04/16/2018 | CBCA 6040 | Anrel Distribution LLC | Vergilio | Dismissal |
| 04/16/2018 | CBCA 6016 | Quality Services International, LLC | Vergilio | Dismissal |
| 04/16/2018 | CBCA 6039 | Bent Marine, LLC | Sullivan | Dismissal |
| 04/16/2018 | CBCA 5319 | Melwood Horticultural Training Center, Inc. | Vergilio | Dismissal |
| 04/16/2018 | CBCA 5741 | Nagel Architects + Engineers | Chadwick | Decision |
| 04/11/2018 | CBCA 6072 | K.O.O. Construction, Inc. | Lester | Order |
| 04/11/2018 | CBCA 5249 | Mallinckrodt LLC | Chadwick | Decision |
| 04/11/2018 | CBCA 5706-RELO | Preston B. Benoit | Zischkau | Decision |