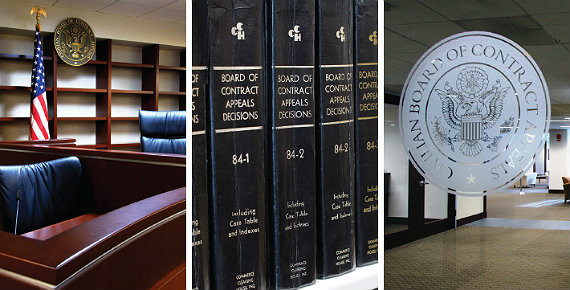 The Civilian Board of Contract Appeals (CBCA) is an independent tribunal housed within the General Services Administration. The CBCA presides over various disputes involving Federal executive branch agencies. Its primary responsibility is to resolve contract disputes between government contractors and agencies under the Contract Disputes Act. For a full discussion of the CBCA and its jurisdiction and history, please see The Board.
Message from the Chair and FY 19 Annual Report.
New rules for Arbitration of FEMA Public Assistance Eligibility or Repayment Disputes under 42 U.S.C. § 5189a(d).
The CBCA's mailing address has changed to 1800 M St., NW, 6th Floor, Washington, DC 20036.
See the latest CBCA News
| Decision Date | Case Number | Appellant / Claimant / Applicant | Judge | Type |
| --- | --- | --- | --- | --- |
| 01/06/2020 | CBCA 6559, 6647 | Williams Building Company, Inc. | Chadwick | Decision |
| 01/09/2020 | CBCA 6134 | Xerox Corporation | Chadwick | Dismissal |
| 01/09/2020 | CBCA 6140 | Xerox Corporation | Chadwick | Dismissal |
| 01/07/2020 | CBCA 6525-RELO | Kim K. Phillips | Drummond | Decision |
| 01/06/2020 | CBCA 6611-RELO | Tim A. Martin | Kullberg | Dismissal |
| 01/06/2020 | CBCA 6620-RELO | Gavin M. Wallach | Lester | Decision |
| 01/07/2020 | CBCA 6593-FEMA | City Of Liverpool | Russell | Decision |
| 12/31/2019 | CBCA 6663 | Fluor Enterprises, Inc. | Sheridan | Dismissal |
| 12/19/2019 | CBCA 5210 | CFP FBI-Knoxville, LLC | Beardsley | Dismissal |
| 12/23/2019 | CBCA 6131 | XEROX Corporation | Chadwick | Dismissal |
| 12/23/2019 | CBCA 6132 | XEROX Corporation | Chadwick | Dismissal |
| 12/20/2019 | CBCA 6632 | Master Design Build, LLC | Drummond | Dismissal |
| 12/20/2019 | CBCA 6350, 6399 | Williams Building Company, Inc. | Lester | Dismissal |
| 12/17/2019 | CBCA 6116, 6416 | ACRO Construction, LLC | Russell | Dismissal |
| 12/19/2019 | CBCA 2953, 2954, 2955, 3596, 4175, 4377, 5006 | Suffolk Construction Company, Inc. | Zischkau | Decision |
| 12/19/2019 | CBCA 6434-FEMA | Plaquemines Parish Government | Sullivan | Decision |
| 12/20/2019 | CBCA 6649-FEMA | New York State Office Of Parks, Recreation And Historic Preservation | O'Rourke | Dismissal |
| 12/23/2019 | CBCA 6570-RELO | Hilda Alexander | Sheridan | Decision |
| 11/01/2019 | CBCA 5814, 5815, 5816 | Harris IT Services Corporation | O'Rourke | Decision |
| 12/10/2019 | CBCA 6338-ISDA | Rock Creek Grant School | Somers | Dismissal |
| 12/04/2019 | CBCA 6446-RELO | Gustavo A. Bisbal | Sullivan | Decision |
| 12/10/2019 | CBCA 6576-RELO | Yiannis A. Lolos | Vergilio | Decision |
| 12/10/2019 | CBCA 6447-RELO | Matthew W. Forsythe | Kullberg | Decision |
| 12/10/2019 | CBCA 6672 | Structural Engineering Group, Inc. | Beardsley | Decision |
| 12/10/2019 | CBCA 6583-ISDA, 6584-ISDA | Chapa-De Indian Health Program, Inc. | Goodman | Dismissal |
| 12/10/2019 | CBCA 6619-ISDA | Cheyenne River Sioux Tribe | Hyatt | Dismissal |
| 12/09/2019 | CBCA 5168, 6298 | AMEC Foster Wheeler Environment & Infrastructure, Inc. | Chadwick | Decision |
| 12/05/2019 | CBCA 6517, 6601 | CH2MWG Idaho, LLC | Sheridan | Dismissal |
| 12/05/2019 | CBCA 6592-RELO | Michael C. Lamantia | Chadwick | Decision |
| 12/05/2019 | CBCA 6536-RELO | Gregory Billings | Hyatt | Decision |
| 12/04/2019 | CBCA 6544 | Williams Building Company, Inc. | Lester | Dismissal |
| 12/04/2019 | CBCA 6637-ISDA | Forest County Potawatomi Community | Lester | Dismissal |
| 12/03/2019 | CBCA 6642-ISDA | Aleutian Pribilof Islands Association, Inc. | O'Rourke | Dismissal |
| 11/27/2019 | CBCA 6354-RELO | Rebecca J. Lott | Lester | Decision |
| 12/03/2019 | CBCA 6470-RELO | Edward H. Johnson | Somers | Decision |
| 12/02/2019 | CBCA 5997, 6464 | SBC Archway Helena, LLC | Vergilio | Decision |
| 12/04/2019 | CBCA 6429 | Halbert Construction Company, Inc. | Goodman | Dismissal |
| 12/02/2019 | CBCA 6604-FEMA | New York State Office Of Parks, Recreation And Historic Preservation | Vergilio | Decision |
| 11/21/2019 | CBCA 6526-TRAV | Edward G. Davidson | Drummond | Decision |
| 11/20/2019 | CBCA 6299 | Thundercat Technology, LLC | Sullivan | Dismissal |
| 11/25/2019 | CBCA 6262 | Triple Canopy, Inc. | Sullivan | Dismissal |
| 11/14/2019 | CBCA 6568-RELO | Teresa K. Scalise | Russell | Decision |
| 11/14/2019 | CBCA 6325-ISDA | Rock Creek Grant School | Somers | Dismissal |
| 11/14/2019 | CBCA 6444 | Master Design Build, LLC | Vergilio | Dismissal |
| 11/15/2019 | CBCA 6645-RELO | Frederick R. Sciulli | Sullivan | Dismissal |
| 11/13/2019 | CBCA 5907-R | Walker Development & Trading Group Inc. | Beardsley | Decision |
| 11/07/2019 | CBCA 6561 | BES Design/Build, LLC | Goodman | Decision |
| 11/06/2019 | CBCA 6639 | Halbert Construction Company, Inc. | Russell | Dismissal |
| 11/12/2019 | CBCA 6640 | Halbert Construction Company, Inc. | Sheridan | Dismissal |
| 11/06/2019 | CBCA 6514-RELO | Jose M. Hernandez | Vergilio | Decision |
| 11/07/2019 | CBCA 6591-RELO | Phillip C. Rhodes | Beardsley | Decision |
| 11/13/2019 | CBCA 6562-TRAV | Richard W. Briggs | Kullberg | Decision |
| 11/04/2019 | CBCA 6339 | ESA South, Inc. | Beardsley | Dismissal |
| 10/31/2019 | CBCA 6340 | M&C Venture Group | Goodman | Decision |
| 11/04/2019 | CBCA 5420, 5733 | Pegasus Enterprises, LP | O'Rourke | Decision |
| 10/31/2019 | CBCA 5269, 5659 | NOAA Maryland, LLC | Russell | Decision |
| 11/05/2019 | CBCA 6471-TRAV | Mark A. Majestic | Zischkau | Decision |
| 10/28/2019 | CBCA 5609 | M&C Venture Group | Goodman | Dismissal |
| 10/23/2019 | CBCA 6461 | Reagent World, Inc. | Russell | Dismissal |
| 10/28/2019 | CBCA 6196, 6395 | Peraton, Inc. | Vergilio | Dismissal |
| 10/29/2019 | CBCA 6264, 6279, 6284 | Carmazzi Global Solutions, Inc. | Vergilio | Decision |
| 10/24/2019 | CBCA 6562-TRAV | Richard W. Briggs | Kullberg | Decision |
| 10/24/2019 | CBCA 6605-TRAV | Julie M. Carey | O'Rourke | Dismissal |
| 10/29/2019 | CBCA 6638-RELO | David Guadalupe | Sheridan | Dismissal |
| 10/28/2019 | CBCA 6434-FEMA | Plaquemines Parish Government | Sullivan | Decision |
| 10/28/2019 | CBCA 6375-ISDA | Yankton Sioux Tribe | Beardsley | Dismissal |
| 10/17/2019 | CBCA 6613 | HICAPS, Inc. | Beardsley | Dismissal |
| 10/18/2019 | CBCA 6209-FCIC | Rural Community Insurance Company (In re: Oberg Family Farms) | Beardsley | Dismissal |
| 10/18/2019 | CBCA 6380-TRAV | David B. Teed | Drummond | Decision |
| 10/09/2019 | CBCA 6554-ISDA | Rough Rock Community School, Inc. | Drummond | Dismissal |
| 10/15/2019 | CBCA 6457-FEMA | Union For Reform Judaism | Lester | Decision |
| 10/10/2019 | CBCA 6479 | CSI Aviation, Inc. | Kullberg | Dismissal |
| 10/16/2019 | CBCA 5768 | Primestar Construction Corp. | Beardsley | Dismissal |
| 10/16/2019 | CBCA 6602 | CSI Aviation, Inc. | Kullberg | Dismissal |
| 10/09/2019 | CBCA 6617 | General Dynamics Mission Systems, Inc. | Russell | Dismissal |
| 10/15/2019 | CBCA 6364-RELO | Stephen G. Tryon | Russell | Decision |
| 10/03/2019 | CBCA 6585-TRAV | James B. Ott | Lester | Dismissal |
| 10/04/2019 | CBCA 6450-RELO | Debra C. Clark-Burnside | Lester | Decision |
| 10/08/2019 | CBCA 6575 FEMA | Noble County, Ohio | Sheridan | Decision |
| 10/01/2019 | CBCA 6089-ISDA | Osage Nation | Somers | Dismissal |
| 10/02/2019 | CBCA 6085, 6286 | Aplin, LLC | Chadwick | Dismissal |
| 10/07/2019 | CBCA 6421 | NTT Data Services Federal Government, LLC | Somers | Dismissal |
| 10/01/2019 | CBCA 6527 | Foxmar, Inc. dba Education And Training Resources | Sullivan | Dismissal |
| 10/04/2019 | CBCA 6539 | Harry L. Chupnick | Chadwick | Decision |
| 07/29/2019 | CBCA 5988-TRAV | Caleb B. Halstead | Hyatt | Decision |
| 07/29/2019 | CBCA 4241 | Ucensys Research Corp. | Kullberg | Decision |
| 08/01/2019 | CBCA 6345 | Northstar Federal Services, Inc. | Russell | Dismissal |
| 08/01/2019 | CBCA 6418 | Triple Canopy, Inc. | Sullivan | Dismissal |
| 07/30/2019 | CBCA 6336 | North Star Imports, LLC | Drummond | Dismissal |
| 07/29/2019 | CBCA 6069 | National Electrical Systems, Inc. | Goodman | Dismissal |
| 07/29/2019 | CBCA 6542 | The Akana Group | Drummond | Dismissal |
| 07/26/2019 | CBCA 5996 | Mare Solutions, Inc. | Sullivan | Dismissal |
| 09/25/2019 | CBCA 5954 | SOC LLC | Kullberg | Dismissal |
| 09/25/2019 | CBCA 6303 | Leidos Innovations Corporation | Somers | Decision |
| 09/26/2019 | CBCA 6264, 6265, 6273, 6274, 6275, 6276, 6277, 6278, 6279, 6280, 6281, 6282, 6283, 6284, 6288, 6342, 6343, 6344 | Carmazzi Global Solutions, Inc. | Vergilio | Decision |
| 09/27/2019 | CBCA 6454-RELO | David B. Cornstein | O'Rourke | Decision |
| 09/24/2019 | CBCA 3403-ISDA, 3557-ISDA, 3564-ISDA | Native Village Of Savoonga | Chadwick | Dismissal |
| 09/23/2019 | CBCA 6513-FEMA | Livingston Parish Government | Chadwick | Decision |
| 09/23/2019 | CBCA 6532-RELO | Kirk D. Henry | Goodman | Decision |
| 09/18/2019 | CBCA 6249 | American Beef Packers, Inc. | Lester | Decision |
| 09/25/2019 | CBCA 5809 | McAllen Hospitals LP, dba South Texas Health System | Lester | Dismissal |
| 09/23/2019 | CBCA 6045, 6215, 6216 | SOC LLC | Beardsley | Dismissal |
| 09/18/2019 | CBCA 6311 | Bancroft Architects + Engineers | Sheridan | Decision |
| 09/20/2019 | CBCA 6365 | T.K. Hughes Auto Sales, Inc. | Somers | Dismissal |
| 09/13/2019 | CBCA 6397 | 305 S. Lucille, LLC | Beardsley | Dismissal |
| 09/12/2019 | CBCA 6187 | M.A. Mortenson Company | Goodman | Dismissal |
| 09/17/2019 | CBCA 6408 | The Chigosi Company | Goodman | Dismissal |
| 09/12/2019 | CBCA 6267-TRAV, 6268-TRAV, 6269-TRAV | Patrick M. Cotton | Hyatt | Decision |
| 09/10/2019 | CBCA 6161 | WSSA Birmingham, LLC | Drummond | Decision |
| 09/04/2019 | CBCA 6326 | Ace Endico Corp | O'Rourke | Dismissal |
| 09/10/2019 | CBCA 5698 | Stobil Enterprise | Russell | Decision |
| 09/10/2019 | CBCA 6523 | MSK Construction, Inc. | Russell | Dismissal |
| 09/06/2019 | CBCA 6586 | Amara Akogu | Vergilio | Dismissal |
| 08/29/2019 | CBCA 6323 | ACE Endico Corp | Drummond | Dismissal |
| 08/29/2019 | CBCA 6029, 6030 | Sotera Defense Solutions, Inc. | Sullivan | Decision |
| 09/4/2019 | CBCA 6443-RELO | Miguel A. Santiago Diaz | Drummond | Decision |
| 09/4/2019 | CBCA 6455-RELO | Melvin J. Gutierrez | Russell | Decision |
| 08/20/2019 | CBCA 6185 | P.K. Management Group, Inc. | Chadwick | Decision |
| 08/12/2019 | CBCA 5713 | Savannah River Nuclear Solutions, LLC | Goodman | Decision |
| 08/26/2019 | CBCA 2920, 3615, 4813, 5004 | The Whiting-Turner Contracting Company | Somers | Dismissal |
| 08/21/2019 | CBCA 6489-RELO | Jonathan E. Pearson | Sullivan | Decision |
| 08/21/2019 | CBCA 6520-RELO | David C. Shinn | Zischkau | Decision |
| 08/23/2019 | CBCA 6390-TRAV | Glenn R. Gibbons | Hyatt | Decision |
| 08/19/2019 | CBCA 6545-ISDA | Cowlitz Indian Tribe | Chadwick | Dismissal |
| 08/19/2019 | CBCA 6546-ISDA | Cowlitz Indian Tribe | Chadwick | Dismissal |
| 08/19/2019 | CBCA 6547-ISDA | Cowlitz Indian Tribe | Chadwick | Dismissal |
| 08/14/2019 | CBCA 6171, 6414 | AT&T Technical Services Company, Inc. | Lester | Dismissal |
| 08/13/2019 | CBCA 6361 | URS Group, Inc. | Russell | Dismissal |
| 08/20/2019 | CBCA 6439-FEMA | Dewees Island Property Owners Association | Sullivan | Decision |
| 08/19/2019 | CBCA 6573-RELO | Jessica Guyton | Sullivan | Decision |
| 08/13/2019 | CBCA 6553-RELO | Brendan J. Bowman | Lester | Decision |
| 08/09/2019 | CBCA 5514 | BES Design/Build, LLC | Somers | Decision |
| 08/09/2019 | CBCA 5515 | BES Design/Build, LLC | Somers | Decision |
| 08/08/2019 | CBCA 6147-R | CH2M-WG Idaho, LLC | Sheridan | Decision |
| 08/07/2019 | CBCA 5997, 6464 | SBC Archway Helena, LLC | Vergilio | Decision |
| 08/06/2019 | CBCA 6393 | Martin-Miser Associates, Inc. | Vergilio | Dismissal |
| 08/06/2019 | CBCA 6480 | APTIM Federal Services, LLC | Goodman | Dismissal |
| 08/05/2019 | CBCA 6327 | Ahtna Construction and Primary Products Company, LLC | Sheridan | Dismissal |
| 08/02/2019 | CBCA 5543 | PJP Building Six, LC | Beardsley | Dismissal |
| 08/02/2019 | CBCA 6482 | Fairfield Technologies, Inc. | O'Rourke | Dismissal |
| 07/25/2019 | CBCA 6445 | Williams Building Company, Inc. | Zischkau | Dismissal |
| 07/24/2019 | CBCA 6528-TRAV | Ashley R. Luo | Goodman | Decision |
| 07/24/2019 | CBCA 5092 | Golden Key Group, LLC | Lester | Dismissal |
| 07/23/2019 | CBCA 6307 | Williams Building Company, Inc. | Lester | Dismissal |
| 07/18/2019 | CBCA 6121 | Archer Western Construction, LLC | Sullivan | Decision |
| 07/15/2019 | CBCA 6485 | BES Design/Build, LLC | Sheridan | Decision |
| 07/17/2019 | CBCA 6392 | RLS Construction Group, LLC | Sullivan | Dismissal |
| 07/17/2019 | CBCA 6481-TRAV | Bryon L. Craig | Chadwick | Decision |
| 07/12/2019 | CBCA 6551 | AB Staffing Solutions, LLC | O'Rourke | Dismissal |
| 07/11/2019 | CBCA 5848 | United Facility Services Corporation dba Eastco Building Services | Lester | Dismissal |
| 07/11/2019 | CBCA 6105, 6106, 6107, 6320 | Kcorp Technology Services Inc. | Lester | Dismissal |
| 07/11/2019 | CBCA 6108, 6109, 6110, 6111 | Kcorp Technology Services Inc. | Lester | Dismissal |
| 07/10/2019 | CBCA 6437 | Aventura Technologies, Inc. | Sheridan | Dismissal |
| 07/02/2019 | CBCA 5623, 6002 | MSK Construction, Inc. | Kullberg | Dismissal |
| 07/01/2019 | CBCA 4968 | Optimum Services, Inc. | Kullberg | Decision |
| 07/03/2019 | CBCA 6529-TRAV | Corina C. Warfield | Hyatt | Dismissal |
| 07/03/2019 | CBCA 5907 | Walker Development & Trading Group, Inc. | Beardsley | Decision |
| 07/02/2019 | CBCA 6483-TRAV | James B. Allen | Sullivan | Decision |
| 07/02/2019 | CBCA 6451-TRAV | Miles K. Frampton | Sullivan | Decision |