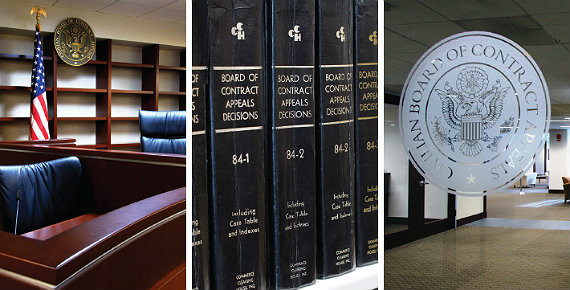 The Civilian Board of Contract Appeals (CBCA) is an independent tribunal housed within the General Services Administration. The CBCA presides over various disputes involving Federal executive branch agencies. Its primary responsibility is to resolve contract disputes between government contractors and agencies under the Contract Disputes Act. For a full discussion of the CBCA and its jurisdiction and history, please see About The Board. For recent news, please see CBCA News.
Important information as a result of the ongoing COVID-19 pandemic:
The CBCA is Fully Operational, although our offices are closed to the public. We encourage all litigants to file their documents electronically as provided at Filing Documents.
The CBCA is now receiving mail and packages sent via U.S. postal service, FedEx and UPS. However, the CBCA will not sign for or certify receipt of mail or packages or accept in-person deliveries.
To efile protected documents, you must obtain permission from the judge for your case.
To efile a Rule 4 appeal file, you must obtain permission from the Office of the Clerk at 202-606-8800 or cbcaclerk@cbca.gov.
With the exception of statutory deadlines, each judge has the discretion to modify the deadlines established in a specific case. Any statutory limitations on the time within which a filing may be made will NOT be waived or tolled.
All Hearings, Mediations, and Arbitrations will be held by video conferencing or by telephone until further notice. Go HERE for guidance on virtual proceedings at the CBCA.
The CBCA is now accepting Rule 4 appeal files and exhibits via Secure File Transfer Protocol (SFTP). Please see the submission guide for details. This new method of submission does not replace the other options for submitting the Rule 4 appeal files or exhibits, such as efiling (preferred if the filing meets CBCA Rules of Procedure efiling requirements and the Clerk gives permission to efile) or by in-person, courier, or mail (USPS/FedEx/UPS) delivery on a CD, DVD, or flash drive.
If you have any questions about the Board's operations, contact the Office of the Clerk at 202-606-8800 or cbcaclerk@cbca.gov. This notice will be updated as necessary.
ANNOUNCEMENTS
Check out what's News at the CBCA.
The FAX line is working. The fax number is 202-296-0341.
The CBCA's mailing address has changed to 1800 M St., NW, 6th Floor, Washington, DC 20036.