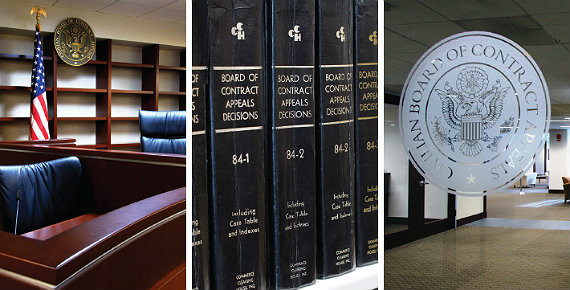 The Civilian Board of Contract Appeals (CBCA) is an independent tribunal housed within the General Services Administration. The CBCA presides over various disputes involving Federal executive branch agencies. Its primary responsibility is to resolve contract disputes between government contractors and agencies under the Contract Disputes Act. The CBCA encourages the use of alternative dispute resolution (ADR) in all appropriate cases. For a full discussion of the CBCA and its jurisdiction and history, please see The Board.
See the latest CBCA News
Message from the Chair and FY17 Annual Report.
Federal Register Notice of CBCA Proposed Rule Revision
New guidance from the General Services Administration regarding relocation allowances. This bulletin provides information to agency travel and relocation program managers regarding changes to relocation allowances based on the recent Federal tax law changes.
New Decisions
| Decision Date | Case Number | Appellant / Claimant / Applicant | Judge | Type |
| --- | --- | --- | --- | --- |
| 07/19/2018 | CBCA 5802-RELO | Kelly L. Gunn | Hyatt | Decision |
| 07/19/2018 | CBCA 6011 | Keypoint Government Solutions, Inc. | O'Rourke | Dismissal |
| 07/19/2018 | CBCA 6165-C(5540) | Mare Solutions, Inc. | O'Rourke | Dismissal |
| 07/17/2018 | CBCA 5329, 5330 | Hensel Phelps Construction Co. | Lester | Dismissal |
| 07/17/2018 | CBCA 5510, 5726 | Primestar Construction | Lester | Dismissal |
| 07/16/2018 | CBCA 5806 | Herman Construction Group, Inc. | Beardsley | Decision |
| 07/16/2018 | CBCA 5870 | Herman Construction Group, Inc. | Beardsley | Decision |
| 07/16/2018 | CBCA 5994-RELO | John C. Shire | Russell | Decision |
| 07/16/2018 | CBCA 4240, 5694 | Kohn Pedersen Fox Associates PC | Goodman | Dismissal |
| 07/16/2018 | CBCA 5622 | National Electrical Systems, Inc. | Beardsley | Dismissal |
| 07/16/2018 | CBCA 5070, 5859 | Wilmington NC VA 2011, LLC | Beardsley | Dismissal |
| 07/13/2018 | CBCA 6031 | Woolery Timber Management Inc. | Lester | Order |
| 07/10/2018 | CBCA 6159-RELO | Michael D. Sloan | Sullivan | Decision |
| 07/10/2018 | CBCA 6083-RELO | Walter C. Moynihan | Lester | Decision |
| 07/09/2018 | CBCA 5687 | Cain Contracting, Inc. | Kullberg | Dismissal |
| 07/09/2018 | CBCA 5960-ISDA | Crow Creek Tribal Schools | Sheridan | Dismissal |
| 07/09/2018 | CBCA 5900 | Dyncorp International LLC | Sullivan | Dismissal |
| 07/09/2018 | CBCA 6094 | IJC Corporation | Drummond | Dismissal |
| 07/09/2018 | CBCA 5618 | Industrial Maintenance Services, Inc. | Vergilio | Decision |
| 07/09/2018 | CBCA 5506, 5715, 5849 | JBG/Federal Center L.L.C. | Sullivan | Decision |
| 07/09/2018 | CBCA 5922 | Melwood Horticultural Training Center, Inc. | Sheridan | Dismissal |
| 07/09/2018 | CBCA 6003-RELO | Rita L. Harvey | Sheridan | Decision |
| 07/09/2018 | CBCA 5549-FEMA | Roman Catholic Church of the Archdiocese of New Orleans | Lester | Decision |
| 07/09/2018 | CBCA 5272 | United Facility Services Corporation dba Eastco Building Services | Lester | Decision |
| 07/05/2018 | CBCA 5931 | Alares LLC | Vergilio | Dismissal |
| 07/05/2018 | CBCA 5953-RELO | Candido G. Delrosario, III | Beardsley | Decision |
| 07/05/2018 | CBCA 6097-TRAV | David P. Meyer | Beardsley | Decision |
| 07/05/2018 | CBCA 5925 | Melwood Horticultural Training Center, Inc. | Sheridan | Dismissal |
| 07/02/2018 | CBCA 4980-FEMA | Non-Flood Protection Asset Management Authority of Louisiana | Zischkau | Decision |
| 07/02/2018 | CBCA 5979-RELO | Raymundo R. Lomboy | Drummond | Decision |
| 06/29/2018 | CBCA 5640 | BES Design/Build, LLC | Somers | Dismissal |
| 06/28/2018 | CBCA 6119 | Preventative Maintenance Services Company | Sheridan | Dismissal |
| 06/27/2018 | CBCA 5993 | B&F Distributors, LLC | O'Rourke | Decision |
| 06/22/2018 | CBCA 6162 | Crown Agents USA, Inc. | Goodman | Dismissal |
| 06/21/2018 | CBCA 5899-TRAV | Payungsak Khamsanit | Russell | Decision |
| 06/21/2018 | CBCA 6122-ISDA | Lake County Tribal Health Consortium, Inc. | Chadwick | Dismissal |
| 06/21/2018 | CBCA 5923 | Melwood Horticultural Training Center, Inc. | Sheridan | Dismissal |
| 06/20/2018 | CBCA 5934-RELO | Matthew J. Nollau | Zischkau | Dismissal |