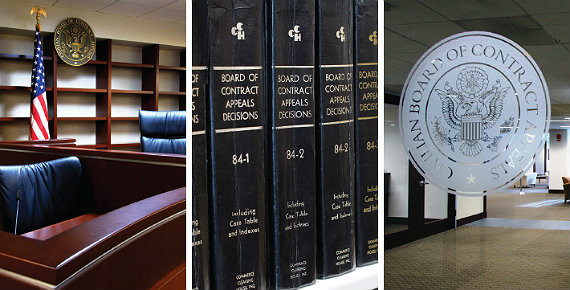 The Civilian Board of Contract Appeals (CBCA) is an independent tribunal housed within the General Services Administration. The CBCA presides over various disputes involving Federal executive branch agencies. Its primary responsibility is to resolve contract disputes between government contractors and agencies under the Contract Disputes Act. The CBCA encourages the use of alternative dispute resolution (ADR) in all appropriate cases. For a full discussion of the CBCA and its jurisdiction and history, please see The Board.
See the latest CBCA News
Message from the Chair and FY18 Annual Report.
The Board's new Rules of Procedure, effective on September 17, 2018, can be found under the "How to File > Rules" tab. All currently pending cases are subject to the new rules unless otherwise ordered.
Important Notice
The Civilian Board of Contract Appeals (CBCA) will remain open for the purpose of accepting electronic filings during the partial government shutdown.
As of Monday, January 7, 2019, the CBCA will no longer be open to accept any deliveries at its physical address of 1800 M St., NW, Suite 600 South, Washington, D.C. This includes in-person, courier and express mail submissions. United States Postal Service (USPS) submissions mailed to 1800 F Street, NW, Washington, DC 20405 and received after Friday, January 4, 2019, will be held by the postal service until the Board reopens its physical address.
Any statutory limitations on the time within which a filing may be made will not be waived or tolled during this period.
With the exception of statutory deadlines, each judge has the discretion to modify the deadlines established in a specific case that occur during and after this period.
If you have any questions about the Board's operations during the shutdown period, please contact the Office of the Clerk at 202-606-8800.
| Decision Date | Case Number | Appellant / Claimant / Applicant | Judge | Type |
| --- | --- | --- | --- | --- |
| 12/19/2018 | CBCA 6086 | MNQ Business Solutions, LLC | Hyatt | Dismissal |
| 12/18/2018 | CBCA 6314-RELO | Adam DeLadurantey | Goodman | Dismissal |
| 12/18/2018 | CBCA 5920 | Dynamic Educational Systems, Inc. | Russell | Dismissal |
| 12/17/2018 | CBCA 6203 | Basic Marine, Inc. | Chadwick | Dismissal |
| 12/14/2018 | CBCA 4559 | Trust Title Company | Goodman | Dismissal |
| 12/13/2018 | CBCA 4410 | ThinkGlobal, Inc. | Chadwick | Dismissal |
| 12/12/2018 | CBCA 6046 | American Business Corporation | Chadwick | Dismissal |
| 12/12/2018 | CBCA 6047 | American Business Corporation | Chadwick | Dismissal |
| 12/12/2018 | CBCA 6222 | Design & Integration, Inc. | Sheridan | Dismissal |
| 12/12/2018 | CBCA 6306 | Hof Construction, Inc. | Chadwick | Decision |
| 12/12/2018 | CBCA 6186-ISDA | Sinte Gleska University | Goodman | Dismissal |
| 12/12/2018 | CBCA 5989, 6066, 6067, 6068, 6082 | U.S. Army Tactical Supply | Kullberg | Decision |
| 12/10/2018 | CBCA 6289 | G.E.M. Constructors, Inc. | Somers | Decision |
| 12/06/2018 | CBCA 6084-RATE | AARE Logistics, LLC | Goodman | Decision |
| 12/06/2018 | CBCA 6256-TRAV | Brian M. MacMillan | Chadwick | Dismissal |
| 12/04/2018 | CBCA 5860 | Lincoln Development Enterprises, LLC dba Midway Cold Storage | Somers | Dismissal |
| 12/04/2018 | CBCA 6258-TRAV | Wilbur P. Wright | Goodman | Decision |
| 12/03/2018 | CBCA 3506, 6167 | First Kuwaiti Trading & Contracting, W.L.L. | Sullivan | Decision |
| 11/29/2018 | CBCA 5963-RATE | Platinum Services, Inc. | Beardsley | Decision |
| 11/29/2018 | CBCA 6197-RELO | Anthony W. Reed | Drummond | Decision |
| 11/29/2018 | CBCA 6296-RELO | Dalton M. Coker | Chadwick | Dismissal |
| 11/29/2018 | CBCA 6153-C(5361) | HAL-PE Associates Engineering Services, Inc. | Goodman | Dismissal |
| 11/27/2018 | CBCA 5874-FEMA, 5878-FEMA, 5879-FEMA, 5881-FEMA, 5882-FEMA, 5883-FEMA, 5884-FEMA, 5885-FEMA, 5886-FEMA | Louisiana Department of Natural Resources, through Coastal Protection and Restoration Authority | Chadwick | Dismissal |
| 11/27/2018 | CBCA 5971 | OMNIPLEX World Services Corporation | Vergilio | Decision |
| 11/27/2018 | CBCA 5584 | Robert F. Hyland & Sons, LLC | Zischkau | Dismissal |
| 11/26/2018 | CBCA 5953-RELO | Candido G. Delrosario, III | Beardsley | Decision |
| 11/26/2018 | CBCA 5873-FEMA, 5875-FEMA, 5876-FEMA, 5877-FEMA | Louisiana Department of Natural Resources, through Coastal Protection and Restoration Authority | Russell | Decision |
| 11/21/2018 | CBCA 6078 | Outback Firefighting, Inc. | Sullivan | Decision |
| 11/20/2018 | CBCA 6218-RELO | James W. Orr | Kullberg | Decision |
| 11/20/2018 | CBCA 4826, 5123, 5124, 5189, 5190 | JR Services, LLC | Lester | Decision |
| 11/20/2018 | CBCA 5997 | SBC Archway Helena, LLC | Vergilio | Decision |
| 11/19/2018 | CBCA 6062 | CHP International | Chadwick | Dismissal |
| 11/19/2018 | CBCA 5973 | CHP International | Chadwick | Dismissal |
| 11/05/2018 | CBCA 3760, 4822, 5281 | Smith Management Construction, Inc. and BRC Lease Company, L.L.C. | Beardsley | Decision |
| 11/14/2018 | CBCA 6059-RELO | Daniel Rea | Goodman | Decision |
| 11/13/2018 | CBCA 6163-RELO | Tammy J. Guhr | Zischkau | Decision |
| 11/08/2018 | CBCA 6244-RELO | Gloria J. Young | Somers | Dismissal |
| 11/07/2018 | CBCA 5763, 5910 | McCarthy Building Companies, Inc. | Sullivan | Dismissal |
| 11/07/2018 | CBCA 6096-ISDA | Ramah Navajo Chapter | Sullivan | Dismissal |
| 11/07/2018 | CBCA 6305-TRAV | William P. Johnson, Jr. | Sheridan | Dismissal |
| 11/05/2018 | CBCA 5642 | Adams and Associates, Inc. | Vergilio | Decision |
| 11/05/2018 | CBCA 6212-TRAV | Andlen L. Rohwedder | Sheridan | Decision |
| 11/05/2018 | CBCA 6257-TRAV | Arif Ansari | Drummond | Dismissal |
| 11/02/2018 | CBCA 5872-FEMA, 5880-FEMA | Louisiana Department of Natural Resources, through the Coastal Protection and Restoration Authority | Russell | Dismissal |
| 11/01/2018 | CBCA 6059-RELO | Daniel Rea | Goodman | Decision |
| 11/01/2018 | CBCA 6250-RELO | Michael J. Jenkins | Sullivan | Decision |
| 10/31/2018 | CBCA 6152 | Qi Tech, LLC | Sullivan | Dismissal |
| 10/31/2018 | CBCA 5861-TRAV | William V. Kinney | Lester | Decision |
| 10/30/2018 | CBCA 6263 | CACI-ISS, Inc. | Beardsley | Dismissal |
| 10/30/2018 | CBCA 6248-FCIC | NAU Country Insurance Company (In re: Jeff Arambel) | Chadwick | Dismissal |
| 10/29/2018 | CBCA 6238 | Matthew Listiak | Chadwick | Decision |
| 10/26/2018 | CBCA 6072 | K.O.O. Construction, Inc. | Lester | Decision |
| 10/25/2018 | CBCA 6021 | Michaelson, Connor & Boul | Chadwick | Dismissal |
| 10/24/2018 | CBCA 6073-TRAV | Frank A. Balish | Kullberg | Decision |
| 10/23/2018 | CBCA 6198 | Eagle Peak Rock & Paving, Inc. | Russell | Order |
| 10/23/2018 | CBCA 6125-RELO | Ricardo G. Leano | Russell | Decision |
| 10/23/2018 | CBCA 6133 | Xerox Corporation | Chadwick | Dismissal |
| 10/19/2018 | CBCA 5838 | CTSC, LLC | Kullberg | Dismissal |
| 10/19/2018 | CBCA 3798 | McAllen Hospitals LP dba South Texas Health Systems | Lester | Order |
| 10/19/2018 | CBCA 6223-RELO | Michael A. Harris | Lester | Decision |