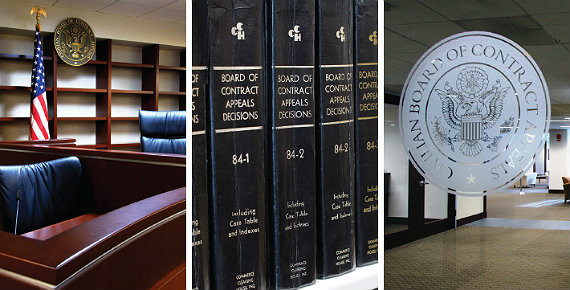 The Civilian Board of Contract Appeals (CBCA) is an independent tribunal housed within the General Services Administration. The CBCA presides over various disputes involving Federal executive branch agencies. Its primary responsibility is to resolve contract disputes between government contractors and agencies under the Contract Disputes Act. For a full discussion of the CBCA and its jurisdiction and history, please see About The Board. For recent news, please see CBCA News.
Important information as a result of the ongoing COVID-19 pandemic:
The CBCA is Fully Operational, although our offices are closed to the public. We encourage all litigants to file their documents electronically as provided at Filing Documents.
The CBCA is now receiving mail and packages sent via U.S. postal service, FedEx and UPS. However, the CBCA will not sign for or certify receipt of mail or packages or accept in-person deliveries.
To efile protected documents, you must obtain permission from the judge for your case.
To efile a Rule 4 appeal file, you must obtain permission from the Office of the Clerk at 202-606-8800 or cbcaclerk@cbca.gov.
With the exception of statutory deadlines, each judge has the discretion to modify the deadlines established in a specific case. Any statutory limitations on the time within which a filing may be made will NOT be waived or tolled.
All Hearings, Mediations, and Arbitrations will be held by video conferencing or by telephone until further notice. Go HERE for guidance on virtual proceedings at the CBCA.
If you have any questions about the Board's operations, contact the Office of the Clerk at 202-606-8800 or cbcaclerk@cbca.gov. This notice will be updated as necessary.
CBCA fax line is currently down.
The CBCA's mailing address has changed to 1800 M St., NW, 6th Floor, Washington, DC 20036.
| Decision Date | Case Number | Appellant / Claimant / Applicant | Judge | Type |
| --- | --- | --- | --- | --- |
| 01/15/2021 | CBCA 6986 | Metropolitan Security Services, Inc. dba Walden Security | Kullberg | Dismissal |
| 01/19/2021 | CBCA 5961, 6322 | Mayberry Enterprises, LLC | Lester | Dismissal |
| 01/19/2021 | CBCA 6798 | Epik International, Inc. | Sheridan | Dismissal |
| 01/21/2021 | CBCA 6892 | Ahtna Construction & Primary Products Company, LLC | Sheridan | Decision |
| 12/18/2020 | CBCA 6027 | WageWorks, Inc. | Sullivan | Decision |
| 01/19/2021 | CBCA 6264-R, 6279-R, 6284-R | Carmazzi Global Solution, Inc. | Vergilio | Decision |
| 01/12/2021 | CBCA 6943-RELO | Alex H. | Beardsley | Decision |
| 01/08/2021 | CBCA 6938-TRAV | Kevin A. | Chadwick | Decision |
| 01/11/2021 | CBCA 6417 | U.S. Army Tactical Supply | Kullberg | Dismissal |
| 01/11/2021 | CBCA 6866-TRAV | Jane A. | Kullberg | Decision |
| 01/06/2021 | CBCA 6659 | Wise Developments, LLC | O'Rourke | Decision |
| 01/07/2021 | CBCA 6621, 6747 | ITS Group Corp | Somers | Decision |
| 01/04/2021 | CBCA 6292, 6385, 6386, 6487, 6543, 6581, 6582, 6801 | CSI Aviation, Inc. | Chadwick | Decision |
| 12/31/2020 | CBCA 6518 | Caddell Construction Co. (DE), LLC | Goodman | Dismissal |
| 12/07/2020 | CBCA 6359 | The Boeing Company | Kullberg | Decision |
| 01/05/2021 | CBCA 6598 | Ascorp, Inc. dba Debco Construction | Russell | Dismissal |
| 01/04/2021 | CBCA 6963 | Logan Simpson Design Inc. | Sheridan | Dismissal |
| 01/04/2021 | CBCA 6869-RELO | Mecia H. | Kullberg | Decision |
| 12/22/2020 | CBCA 6980, 6982 | Chloeta Fire, LLC | Drummond | Dismissal |
| 12/17/2020 | CBCA 6870 | Res-Care, Inc. dba Brightspring Health Services | Goodman | Dismissal |
| 12/17/2020 | CBCA 6787 | Aroostook Property Management, LLC | Sheridan | Dismissal |
| 12/08/2020 | CBCA 6476, 6811 | Mission Support Alliance, LLC | Somers | Decision |
| 12/18/2020 | CBCA 5866 | immixTechnology, Inc. on behalf of Software AG Government Solutions, Inc. | Zischkau | Decision |
| 12/22/2020 | CBCA 6782-TRAV | Frank P. | Zischkau | Decision |
| 12/07/2020 | CBCA 5692 | Eagle Peak Rock & Paving, Inc. | Russell | Decision |
| 12/15/2020 | CBCA 6909-FEMA | Harris County, Texas | Lester | Decision |
| 12/10/2020 | CBCA 6735 | Caddell Construction Co. (DE), LLC | Sheridan | Dismissal |
| 12/15/2020 | CBCA 6948 | Compendium International, Inc. | Zischkau | Dismissal |
| 12/15/2020 | CBCA 6925-RELO | Candida A. | Sheridan | Decision |
| 12/10/2020 | CBCA 6905-RELO | John C. | Russell | Decision |
| 12/02/2020 | CBCA 6964-ISDA | Ketchikan Indian Community | Drummond | Dismissal |
| 12/07/2020 | CBCA 6960-RELO | James E. | Kullberg | Decision |
| 12/03/2020 | CBCA 6857 | 68-60 Austin Street Realty Corp. | Sheridan | Dismissal |
| 12/03/2020 | CBCA 6937 | Catalyst Engineering, Inc. | Somers | Dismissal |
| 12/07/2020 | CBCA 6579 | Trinity Video Communications | Somers | Dismissal |
| 11/24/2020 | CBCA 6822-FEMA | Florida Keys Electric Cooperative | Beardsley | Decision |
| 11/24/2020 | CBCA 6885 | RocJoi Medical Imaging, LLC | Chadwick | Decision |
| 11/27/2020 | CBCA 6374, 6550 | Armcorp Construction, Inc. | Drummond | Dismissal |
| 11/25/2020 | CBCA 6930-RELO | Lisa L. | Sullivan | Decision |
| 11/18/2020 | CBCA 6369 | Semper FI Constructors, LLC | Beardsley | Dismissal |
| 11/23/2020 | CBCA 6944 | NCN Technology | Sullivan | Dismissal |
| 11/20/2020 | CBCA 6652 | iMed Biomedical, Inc. | Vergilio | Dismissal |
| 11/23/2020 | CBCA 6103, 6104 | Brooks Range Contract Services, Inc. | Vergilio | Dismissal |
| 11/23/2020 | CBCA 6864 | Empire Hospitality, LLC | Vergilio | Dismissal |
| 11/20/2020 | CBCA 6941-ISDA | Three Affiliated Tribes/Mandan, Hidatsa, And Arikara Nation | Beardsley | Dismissal |
| 11/19/2020 | CBCA 6823-TRAV | Kevan L. Mullins | Russell | Decision |
| 11/16/2020 | CBCA 6841-R | Midland Language Center | Chadwick | Decision |
| 11/13/2020 | CBCA 6924 | Florida DEA GSA, LLC | Drummond | Dismissal |
| 11/16/2020 | CBCA 6934 | JAF Supply, Inc. | Russell | Decision |
| 11/13/2020 | CBCA 6391 | R.A. Glancy & Sons, Inc. | Somers | Dismissal |
| 11/12/2020 | CBCA 6689, 6784 | Miami-Dade Aviation Department | Sullivan | Decision |
| 11/13/2020 | CBCA 6928-RELO | Christina U. | Somers | Decision |
| 11/17/2020 | CBCA 6962-RELO | Carolyn G. | Lester | Decision |
| 11/16/2020 | CBCA 6933-TRAV | William P. | Somers | Dismissal |
| 11/06/2020 | CBCA 6501 | Oak Hills Property Associates, LLC | Beardsley | Decision |
| 11/06/2020 | CBCA 6502 | Berkley Property Associates, LLC | Beardsley | Decision |
| 11/06/2020 | CBCA 6503 | Oak Hills Property Associates, LLC | Beardsley | Decision |
| 11/06/2020 | CBCA 6504 | 1101 Wilson Owner, LLC | Beardsley | Decision |
| 11/06/2020 | CBCA 6507 | 1000-1100 Wilson Owner, LLC | Beardsley | Decision |
| 11/06/2020 | CBCA 6510 | Oak Hills Property Associates, LLC | Beardsley | Decision |
| 11/06/2020 | CBCA 6511 | Nash Street Property Associates, LLC | Beardsley | Decision |
| 11/05/2020 | CBCA 6473, 6641 | Montage, Inc. | Chadwick | Dismissal |
| 11/05/2020 | CBCA 6168, 6213, 6376 | Montage, Inc. | Kullberg | Dismissal |
| 11/05/2020 | CBCA 6683, 6761, 6762, 6827, 6828, 6829, 6830, 6831, 6833, 6834, 6835, 6836, 6837, 6839, 6918, 6919, 6920, 6921, 6922 | 4K Global-ACC Joint Venture, LLC | Lester | Order |
| 11/05/2020 | CBCA 5011, 6440 | G.E.M. Constructors, Inc. | Somers | Dismissal |
| 11/05/2020 | CBCA 6623, 6624, 6717 | Montage, Inc. | Sullivan | Dismissal |
| 11/09/2020 | CBCA 6826 | Irene Herman Houngbo | Zischkau | Dismissal |
| 11/04/2020 | CBCA 6844-ISDA | Shoshone-Paiute Tribes Of The Duck Valley Indian Reservation | Vergilio | Dismissal |
| 10/30/2020 | CBCA 6903-FEMA | St. John's River Utility, Inc. | Goodman | Decision |
| 11/02/2020 | CBCA 6896-TRAV | Clifton F. | Sheridan | Decision |
| 10/27/2020 | CBCA 6841 | Midland Language Center | Chadwick | Decision |
| 10/27/2020 | CBCA 6771 | Williamson & Moore Incorporated | Beardsley | Dismissal |
| 10/21/2020 | CBCA 5778 | Primary Colors Contracting, Inc. | Goodman | Dismissal |
| 10/27/2020 | CBCA 6449 | Regiment Construction Corp. | Goodman | Decision |
| 10/28/2020 | CBCA 6720 | VT Aepco Inc. | Zischkau | Dismissal |
| 10/23/2020 | CBCA 6935-ISDA | Keweenaw Bay Indian Community | Sheridan | Dismissal |
| 10/13/2020 | CBCA 6540-ISDA | Gila Crossing Community School | Beardsley | Dismissal |
| 10/08/2020 | CBCA 6800-RELO | Jimmy R. Johnson | Beardsley | Decision |
| 10/09/2020 | CBCA 6911-FEMA | Virgin Islands Housing Finance Authority | Russell | Dismissal |
| 10/13/2020 | CBCA 6940-TRAV | Samuel C. Parshall | Lester | Decision |
| 10/13/2020 | CBCA 6081 | PAE Government Services, Inc. | Beardsley | Dismissal |
| 10/08/2020 | CBCA 6460 | Athena Construction Group, Inc. | O'Rourke | Decision |
| 10/08/2020 | CBCA 6723 | Athena Construction Group, Inc. | O'Rourke | Dismissal |
| 10/14/2020 | CBCA 6708 | Archer Western Construction, LLC | Russell | Decision |
| 10/06/2020 | CBCA 6938-TRAV | Kevin T. Aubart | Chadwick | Decision |
| 10/01/2020 | CBCA 6449 | Regiment Construction Corp. | Goodman | Decision |
| 10/05/2020 | CBCA 6742 | TKC Global Solutions, LLC | Somers | Decision |
| 10/01/2020 | CBCA 6863-RELO | Leslie A. Santos | Goodman | Decision |
| 09/23/2020 | CBCA 6636-FEMA | Florida Keys Community College | Goodman | Decision |
| 09/24/2020 | CBCA 6821-FEMA | Metropolitan St. Louis Sewer District | Lester | Decision |
| 09/29/2020 | CBCA 6880-RELO | John E. Gartland | Lester | Decision |
| 09/30/2020 | CBCA 6890-TRAV | Samuel C. Parshall | Lester | Decision |
| 09/29/2020 | CBCA 6663-TRAV | Jordan D. Jones | Russell | Decision |
| 09/30/2020 | CBCA 6687 | GSF Enterprises, Inc. | Russell | Dismissal |
| 09/28/2020 | CBCA 6599 | B3 Enterprises, LLC | Sheridan | Dismissal |
| 09/16/2020 | CBCA 6871 | District Moving Companies, Inc. | Kullberg | Dismissal |
| 09/22/2020 | CBCA 6890-TRAV | Samuel C. Parshall | Lester | Decision |
| 09/22/2020 | CBCA 6764-RELO | George C. Dearing | Sheridan | Decision |
| 09/17/2020 | CBCA 6667 | Eagle Acquisition XIII, LLC dba Concordia Nursing and Rehabilitation - River Pointe | Sullivan | Decision |
| 09/02/2020 | CBCA 6001 | Collecto, Inc. dba EOS CCA | Beardsley | Decision |
| 09/15/2020 | CBCA 6533, 6534, 6535, 6537 | HJD Capital Electric, Inc. | Beardsley | Dismissal |
| 09/09/2020 | CBCA 6388, 6548 | MSK Construction, Inc. | Russell | Dismissal |
| 09/16/2020 | CBCA 6848-FEMA | Virginia Department of Emergency Management | Chadwick | Decision |
| 09/11/2020 | CBCA 6716-FEMA | Monroe County, Florida | O'Rourke | Decision |
| 09/10/2020 | CBCA 6701-RELO | Bradley A. O'Neil | Zischkau | Decision |
| 09/08/2020 | CBCA 6666 | Eagle Acquisition VI, LLC dba Concordia Transitional Care And Rehabilitation - Elizabeth City | Sullivan | Decision |
| 08/25/2020 | CBCA 6459, 6681 | Williams Building Company, Inc. | Chadwick | Dismissal |
| 08/26/2020 | CBCA 6615 | Halbert Construction Company, Inc. | Lester | Decision |
| 08/27/2020 | CBCA 6711 | CGI Federal, Inc. | Somers | Dismissal |
| 09/03/2020 | CBCA 6349, 6463, 6779 | RLS Construction Group, LLC | Sullivan | Dismissal |
| 09/01/2020 | CBCA 6818-TRAV | John J. Mele | Goodman | Decision |
| 08/25/2020 | CBCA 6680-RELO | Scott A. Winterrowd | O'Rourke | Decision |
| 09/03/2020 | CBCA 6858-RELO | Lori D. Renwick | Chadwick | Dismissal |
| 08/20/2020 | CBCA 6724 | 3 Daughters Painting Company, LLC | Drummond | Decision |
| 08/17/2020 | CBCA 6417 | U.S. Army Tactical Supply | Kullberg | Decision |
| 08/19/2020 | CBCA 6034 | Teracore, Inc. | Russell | Dismissal |
| 08/24/2020 | CBCA 6264, 6279, 6284 | Carmazzi Global Solutions, Inc. | Vergilio | Decision |
| 08/21/2020 | CBCA 6630-FEMA | Puerto Rico Electric Power Authority | Beardsley | Dismissal |
| 08/19/2020 | CBCA 6728-FEMA | City of Lakeport, California | Sheridan | Decision |
| 08/20/2020 | CBCA 6862-RELO | Jeffery P. Herman | Drummond | Decision |
| 08/20/2020 | CBCA 6785-RELO | Gregory T. Wahl | Zischkau | Decision |
| 08/13/2020 | CBCA 6809 | S & DF Properties, LLC | Beardsley | Decision |
| 08/13/2020 | CBCA 6049 | Transworld Systems Inc. | Lester | Order |
| 08/13/2020 | CBCA 6049 | Transworld Systems Inc. | Lester | Decision |
| 08/13/2020 | CBCA 6820 | GMA Properties, LLC | Sheridan | Dismissal |
| 08/17/2020 | CBCA 6879 | AFTK, LLC | Sullivan | Dismissal |
| 08/13/2020 | CBCA 6729-RATE | Arpin Group, Inc. | Kullberg | Decision |
| 08/11/2020 | CBCA 6840, 6852, 6853, 6854, 6855 | Nagel Architects, A Series of Nagel Services, LLC | Beardsley | Decision |
| 08/11/2020 | CBCA 6730 | Kelly Construction Services, Inc. | Kullberg | Dismissal |
| 08/11/2020 | CBCA 6873 | Jason Porter dba JPAC Construction | Lester | Dismissal |
| 08/06/2020 | CBCA 6578-RATE | AARE Logistics, LLC | Sullivan | Decision |
| 08/05/2020 | CBCA 6609-RELO | Landon A. Sario | Hyatt | Decision |
| 08/10/2020 | CBCA 6794-TRAV | Anil K. Miglani | Beardsley | Dismissal |
| 07/30/2020 | CBCA 6424 | CGI Federal Inc. | Beardsley | Dismissal |
| 08/03/2020 | CBCA 5764 | Future Forest, LLC | Sheridan | Dismissal |
| 07/29/2020 | CBCA 6675 | Sun Center LLC | Drummond | Dismissal |
| 07/22/2020 | CBCA 6477 | Mission Support Alliance, LLC | Somers | Decision |
| 07/22/2020 | CBCA 6859 | ResCare Workforce Services | Sullivan | Dismissal |
| 07/22/2020 | CBCA 6860 | ResCare Workforce Services | Sullivan | Dismissal |
| 07/22/2020 | CBCA 6610 | Maco Construction Services, Inc. | Zischkau | Dismissal |
| 07/22/2020 | CBCA 6673-RELO | Cady L. Tyron | Hyatt | Decision |
| 07/22/2020 | CBCA 6781-TRAV | Myles A. Alexander | Chadwick | Decision |
| 07/20/2020 | CBCA 6832, 6838 | 4K Global-ACC Joint Venture, LLC | Lester | Dismissal |
| 07/15/2020 | CBCA 6093 | HPI/GSA-4C, L.P. | Russell | Decision |
| 07/16/2020 | CBCA 6669 | Hamstra Chico LLC | Vergilio | Decision |
| 07/16/2020 | CBCA 6726-TRAV | Glenda A. DeVinney | Vergilio | Decision |
| 07/16/2020 | CBCA 6797-RELO | Caitlin C. Clinton-Selin | Vergilio | Decision |
| 07/14/2020 | CBCA 5975-ISDA, 6366-ISDA | Northern Cheyenne Tribe | Sullivan | Dismissal |
| 07/08/2020 | CBCA 6668-RELO | Michael M. Bosack | Drummond | Decision |
| 07/08/2020 | CBCA 6232-ISDA, 6319-ISDA | Standing Rock Community Grant School | Lester | Dismissal |
| 07/13/2020 | CBCA 6710 | Primary Colors Contracting, Inc. | Sheridan | Dismissal |
| 07/06/2020 | CBCA 6506 | 1000-1100 Wilson Owner, LLC | Beardsley | Decision |
| 06/29/2020 | CBCA 5766 | SCS Building Maintenance, Inc. | Vergilio | Decision |
| 06/30/2020 | CBCA 6752, 6753, 6754 | Avue Technologies Corporation | Lester | Decision |
| 06/30/2020 | CBCA 6559, 6647 | Williams Building Company, Inc. | Chadwick | Dismissal |
| 06/25/2020 | CBCA 6774 | Alpha Omega Integration LLC | O'Rourke | Dismissal |
| 06/24/2020 | CBCA 6734, 6845, 6846, 6847 | Gilbane-Grunley Joint Venture | Russell | Decision |
| 06/24/2020 | CBCA 6778-RELO | Miguel A. Correa | Sullivan | Decision |
| 06/29/2020 | CBCA 6691-RELO | Nathan G. Fox | Russell | Decision |
| 06/25/2020 | CBCA 6636-FEMA | Florida Keys Community College | Goodman | Decision |
| 06/24/2020 | CBCA 6749 | Electronic Systems Services, Inc. | Goodman | Dismissal |
| 06/18/2020 | CBCA 5888 | BE UTC GSA Theatre LLC | Goodman | Dismissal |
| 06/19/2020 | CBCA 6703 | Rapid Temps, Inc. | Goodman | Decision |
| 06/23/2020 | CBCA 6733 | Verdi Consulting, Inc. | Lester | Dismissal |
| 06/16/2020 | CBCA 6704 | Mahavir Overseas | Lester | Decision |
| 06/15/2020 | CBCA 6608, 6618 | Unlimited Service Associates, Inc. | Vergilio | Dismissal |
| 06/11/2020 | CBCA 6777-RELO | Scott T. Downey | Somers | Decision |
| 06/10/2020 | CBCA 6745-RELO | Carlos A. Dodds | Kullberg | Decision |
| 06/09/2020 | CBCA 6722 | Soyini A. Richards | Beardsley | Dismissal |
| 06/08/2020 | CBCA 6674-RELO | Kendra O. Finklea | Kullberg | Decision |
| 06/04/2020 | CBCA 6330 | Elkton UCCC, LLC | Sullivan | Dismissal |
| 05/27/2020 | CBCA 6415 | Neiman Timber Co., L.C. | Russell | Dismissal |
| 05/29/2020 | CBCA 6556 | Timbered Rangeland Management, LLC | Vergilio | Dismissal |
| 05/29/2020 | CBCA 6744 | Trinity Of Utah Incorporated | Zischkau | Dismissal |
| 06/02/2020 | CBCA 6145 | Pacific Architects And Engineers, Inc. | Goodman | Dismissal |
| 06/01/2020 | CBCA 5961, 6322 | Mayberry Enterprises, LLC | Lester | Decision |
| 05/22/2020 | CBCA 6725 | Paramount Construction Group, LLC | Goodman | Dismissal |
| 05/22/2020 | CBCA 6768 | Delta State University | Sullivan | Decision |
| 05/07/2020 | CBCA 6534 | HJD Capital Electric, Inc. | Beardsley | Decision |
| 05/14/2020 | CBCA 6783 | CTA I, LLC dba CTA Builders | Chadwick | Decision |
| 05/21/2020 | CBCA 6793 | NEDA of Puerto Rico, Inc. | Lester | Decision |
| 05/14/2020 | CBCA 6664 | Aron Security, Inc. | Somers | Decision |
| 05/19/2020 | CBCA 6736(5942)-REM, 6737(5943)-REM, 6738(5944)-REM, 6739(5945)-REM, 6740(5946)-REM | Development Alternatives, Inc. on behalf of ERSM (Afghanistan) Limited dba Edinburgh International | Somers | Dismissal |
| 05/15/2020 | CBCA 6806 | Maviga N.A. Inc. | Vergilio | Decision |
| 05/15/2020 | CBCA 6678-RELO | Joshua W. Hughes | Lester | Decision |
| 05/15/2020 | CBCA 6731-RELO | Joshua W. Hughes | Lester | Decision |
| 05/19/2020 | CBCA 6698-RELO | Louis J. Boudousquie | Sullivan | Decision |
| 05/14/2020 | CBCA 6697-RELO | Elsa Q. Newland | Somers | Decision |
| 05/21/2020 | CBCA 6719-TRAV | James V. Bailey | Somers | Decision |
| 05/12/2020 | CBCA 6628 | Time Solutions, LLC | Beardsley | Dismissal |
| 05/13/2020 | CBCA 5913 | J. Kokolakis Contracting, Inc. | Goodman | Dismissal |
| 05/05/2020 | CBCA 4026 | Valerie Lewis Janitorial | Kullberg | Decision |
| 05/07/2020 | CBCA 6549-RELO | Timothy W. Peters | Kullberg | Decision |
| 05/11/2020 | CBCA 6188, 6312 | Crowley Logistics, Inc. | Lester | Dismissal |
| 05/12/2020 | CBCA 6621 | ITS Group Corp | Somers | Decision |
| 05/07/2020 | CBCA 6665-RELO | Tae-Hoon Kim | Chadwick | Decision |
| 05/08/2020 | CBCA 6706-RELO | Jason N. Fischell | Drummond | Decision |