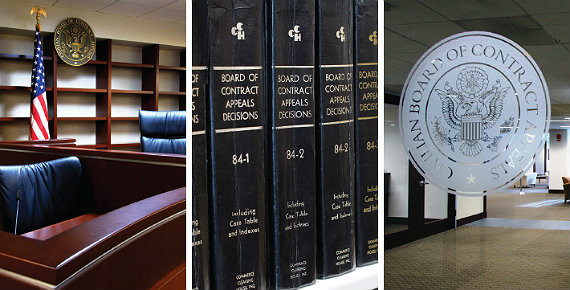 The Civilian Board of Contract Appeals (CBCA) is an independent tribunal housed within the General Services Administration. The CBCA presides over various disputes involving Federal executive branch agencies. Its primary responsibility is to resolve contract disputes between government contractors and agencies under the Contract Disputes Act. The CBCA encourages the use of alternative dispute resolution (ADR) in all appropriate cases. For a full discussion of the CBCA and its jurisdiction and history, please see The Board.
See the latest CBCA News
Message from the Chair and FY18 Annual Report.
The Board's new Rules of Procedure, effective on September 17, 2018, can be found under the "How to File > Rules" tab. All currently pending cases are subject to the new rules unless otherwise ordered.
New Decisions
| Decision Date | Case Number | Appellant / Claimant / Applicant | Judge | Type |
| --- | --- | --- | --- | --- |
| 02/14/2019 | CBCA 6317 | immixTechnology, Inc. on behalf of Software AG Government Solutions, Inc. | Zischau | Dismissal |
| 02/12/2019 | CBCA 6318 | BVB Construction, Inc. | Vergilio | Decision |
| 02/12/2019 | CBCA 6270-RELO | Janette L. Daniels | Vergilio | Decision |
| 02/11/2019 | CBCA 6226-RELO | Timothy C. Fudge | O'Rourke | Decision |
| 02/07/2019 | CBCA 6347 | Point Blank Enterprises, Inc. | Somers | Dismissal |
| 02/06/2019 | CBCA 5716 | Viaco Construction Corp. | Kullberg | Dismissal |
| 02/05/2019 | CBCA 6084-RATE | AARE Logistics, LLC | Goodman | Decision |
| 02/04/2019 | CBCA 6329-ISDA | Quechan Tribe of the Fort Yuma Indian Reservation | Sullivan | Dismissal |
| 02/01/2019 | CBCA 5272 | Yearout Industrial, LLC | Somers | Dismissal |
| 01/31/2019 | CBCA 5605 | Piedmont-Independence Square, LLC | Sullivan | Dismissal |
| 01/31/2019 | CBCA 6031 | Woolery Timber Management Inc. | Lester | Decision |
| 01/29/2019 | CBCA 6189 | DeWitt & Company, Inc. | Russell | Dismissal |
| 01/29/2019 | CBCA 6237 | Khotol Services Corporation | Drummond | Dismissal |
| 01/28/2019 | CBCA 5506, 5715, 5849 | JBG/Federal Center, L.L.C. | Sullivan | Dismissal |
| 01/28/2019 | CBCA 5976 | Tribute Contracting LLC | Chadwick | Dismissal |
| 01/28/2019 | CBCA 6138 | Xerox Corporation | Chadwick | Dismissal |
| 01/28/2019 | CBCA 6144 | Xerox Corporation | Chadwick | Dismissal |
| 12/21/2018 | CBCA 5344 | Cauldwell Wingate Company, LLC | Sullivan | Decision |
| 12/20/2018 | CBCA 5866 | immixTechnology, Inc. on behalf of Software AG Government Solutions, Inc. | Zischkau | Decision |
| 12/19/2018 | CBCA 6309 | Prudent Technologies, Inc. | Drummond | Decision |
| 12/14/2018 | CBCA 6272 | M.R. Crafts, Inc. | Drummond | Dismissal |