News
2018 | 2017 | 2016 | 2015 | 2014 | 2013 | 2012 | 2011 | 2010
May 2018
Summer Law Clerks Join CBCA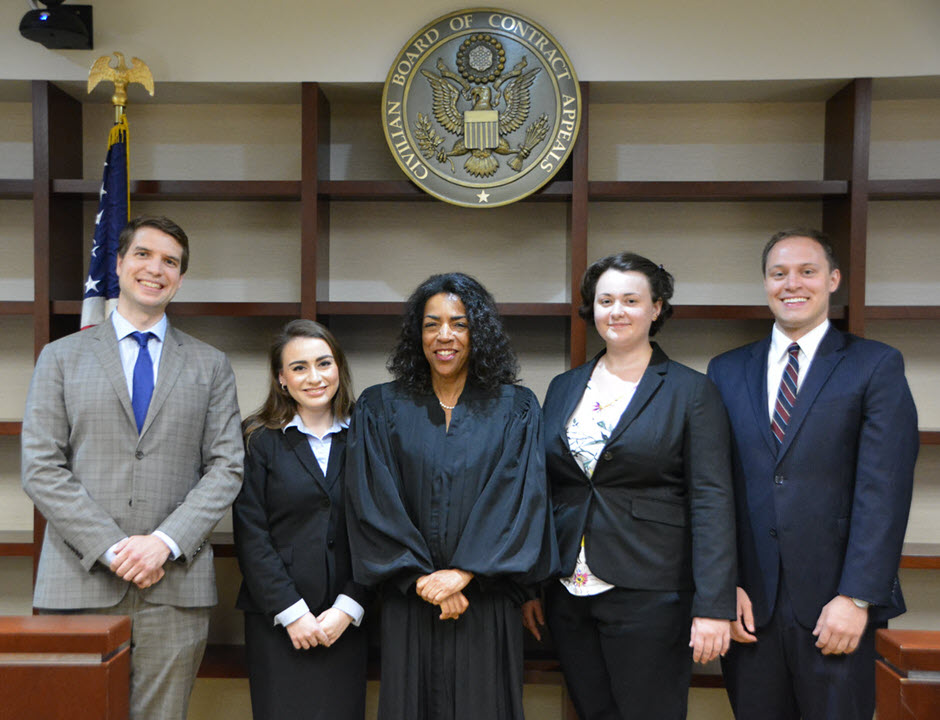 The 2018 Summer Law Clerks are shown after being sworn in by CBCA Chairman, Judge Jeri Somers. As part of the summer program, the law clerks conduct legal research; attend hearings, mediations, and status conferences; and draft all manner of legal documents, including opinions, orders, and memoranda. They are, from left to right, Samuel Van Kopp of Georgetown University Law Center, Jessica Nejberger of the Antonin Scalia Law School at George Mason University, Christine Milne of the Catholic University of America, Columbus School of Law, and Nathaniel Palmer of the University of Virginia School of Law.
April 2018
Roland Park Elementary/Middle School receives donation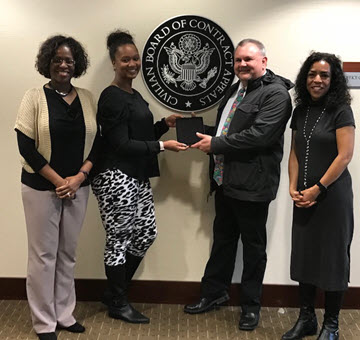 Mr. Brian Hoffman from Roland Park Elementary/Middle School in Baltimore, Maryland, accepts presentation of an iPad from the CBCA's Kenya McPherson, while CBCA Administrative Officer Rochelle Achoe (on left), and CBCA Chair, Judge Jeri Somers (on right) look on. The CBCA recently transferred its obsolete iPads to the Roland Park Elementary/Middle School in Baltimore, Maryland under the Federal Government's Computers for Learning program. The program provides recent model computers and related equipment to schools once the equipment is surplus to the Federal Government's need.
March 2018
Notice of Proposed Rulemaking
On March 28, 2018, the CBCA published in the Federal Register a notice of proposed rulemaking (NPRM) updating the Board's rules of procedure. The Board's rules were issued in 2008 and were last amended in 2011. The proposed rule simplifies and modernizes access to the Board by establishing a preference for electronic filing, increases conformity between the Board's rules and the Federal Rules of Civil Procedure, streamlines the wording of the Board's rules, and clarifies current rules and practices. The public may comment on the proposed rules for sixty days, after which the CBCA will review and consider the comments and issue a final rule. Instructions for providing comments are included in the NPRM and the Board encourages substantive comments from all interested parties. Federal Register Notice of CBCA Proposed Rule Revision

January 2018
Impact of Government Shutdown on Board Operations
If Federal Government operations are curtailed due to a lack of appropriations, the Civilian Board of Contract Appeals will remain open for the purpose of accepting filings from parties during what has been termed the shutdown period.

Any statutory limitations on the time within which a filing may be made will not be waived or tolled during this period.

With the exception of statutory deadlines, each judge has the discretion to modify the deadlines established in a specific case that occur during and after this period.

If you have any questions about the Board's operations during the shutdown period, please contact the Office of the Clerk at 202-606-8800 or the Office of the Chair at 202-606-8831.